Aquarium of the Pacific: Jelly Lab
iOS/Android Game
With a new exhibit launching in 2015 showcasing the fascinating world of Jellies, how could the Aquarium of the Pacific leverage mobile technology to reach new audiences and engage users deeply into this new experience?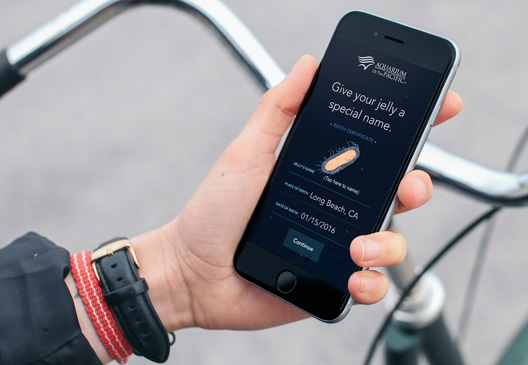 Background
The Aquarium is always seeking ways to better educate and delight visitors and is focused on finding ways to more fully engage the public - particularly after an in-person visit.
We're very proud of our ongoing partnership with this world class organization and were thrilled to bring some mobile game ideas to the table to facilitate this effort.
What We Achieved
Borrowing the initial idea from the legacy Tamagotchi virtual pet concept, Jelly Lab was developed as an experiential app aimed at educating participants about the life cycles of various sea Jellies and the duties of an Aquarist. The daily tasks of growing and caring for each stage of a Jelly are played out over time, assisted by push notifications, and followed up by educational information about the particular care task or life stage. During the entire process, participants don't know what type of Jelly they have grown until the end when it is revealed in their tank.
Already thousands of visitors are downloading and using the App on both Android and iOS platforms. The Aquarium of the Pacific is thrilled!