IBM Lighthouse
Knowledge Sharing
at an Enterprise Scale
JLOOP works with IBM to envision, design, and develop their state-of-the-art knowledge sharing platform.

The need for knowledge sharing
How do you maintain and distribute information and assets across a large employee base? This question is important for any business, and not always easy to answer- especially if you are one of the biggest technology companies on the planet. With over 300,000 employees worldwide, IBM needed a system for sharing tools and know-how that went beyond a simple database. An IBM team working in Delaware could learn a lot about online engagement tools from their counterparts in China using similar information architecture, but a simple database with a raw search function might not help them find what they need. And without proximity to their coworkers, they could spend valuable time developing assets that already exist elsewhere in the company. To solve this problem, IBM envisioned a flexible, powerful platform for cultivating knowledge assets- one that could provide any IBMer with intelligent search capabilities and other means of content discovery to surface truly relevant and valuable materials.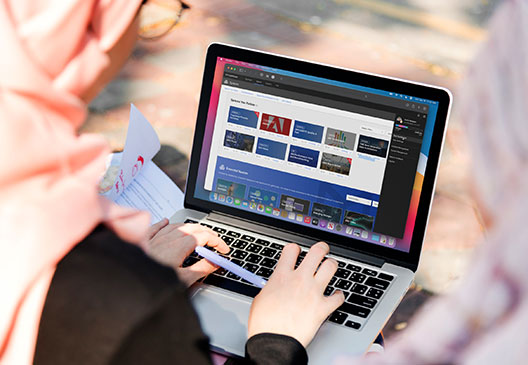 Why JLOOP?
Let's take our extensive experience in UI and UX and our information architecture development prowess as a given. Let's not even talk about our brand development chops or our top-notch design capabilities. Let's not mention the ten-episode magical-realist short film series featuring acclaimed actor Brian Baumgartner we produced to spread the word about Lighthouse within IBM. JLOOP brought something a little more significant than a laundry list of accomplishments and abilities to the project - our philosophy and perspective are what made us a valuable partner to IBM in envisioning and creating the Lighthouse platform. Our background as a small but mighty company, with the ability to change focus quickly and offer innovative solutions, pushed the project into new, exciting territory.
A configurable platform for the future of IBM
The Lighthouse platform hosts over 90,000 documents- wading through with keywords and a scroll wheel isn't going to cut it. One of the ways Lighthouse has changed how IBMers find info and resources is through Spaces. Spaces are curated destinations in Lighthouse focused on specific practice areas within the company. Knowledgeable folks in a practice can share valuable resources to Spaces to silo information efficiently and ensure it has the greatest likelihood of being seen by someone who wants to use it. Spaces are dynamic, too, constantly updating as practice leaders feature the most relevant resources in their fields. Beyond these leader-curated experiences, users bring additional value by rating, reviewing, and discussing Lighthouse content, helping the best of the best rise to the top.
The act of sharing resources in Lighthouse is now more configurable than ever, too. When JLOOP joined the project, there were constrictive templates within the platform that made sharing certain assets difficult. Getting over these roadblocks required dev time for every asset that fell outside of a set number of content types. JLOOP worked to make the sharing experience more configurable and flexible- saving time and development resources, broadening the scope of what can be shared in Lighthouse, and ensuring that the platform can scale well far into the future.
Our work with IBM is far from finished. The future of Lighthouse holds many more innovations- customized collections, collaborative tools, the ability to follow favored contributors- all to help IBMers find valuable resources more efficiently and facilitate truly groundbreaking knowledge sharing.