ACE Fitness
Personal Training Study Experience
A Study Dashboard
that goes above and beyond
ACE Fitness came to JLOOP for a mobile-ready dashboard that would keep students focused.

Improving the study experience
ACE Fitness is a non-profit with a simple but important goal- to get people moving across the world. Their certification courses for fitness and personal training professionals teach vital skills that help ACE pros to inspire their clients and speak from a place of authority and authenticity.
ACE saw that certification candidates who used their online study materials had a higher likelihood of passing their exams, and they wanted to make these resources even better and easier to use. With this goal in mind, they set out to redesign the study dashboard of their personal training certification course. They were looking for a great user experience that could be fully taken advantage of on mobile or desktop, without inundating the user with too much at once or becoming confusing.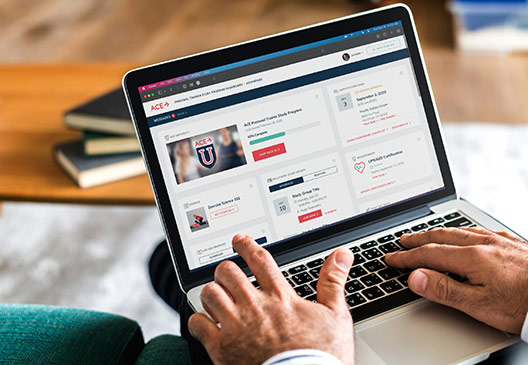 Why JLOOP?
With years of experience in information architecture, UX and UI, JLOOP was a great candidate to design a good-looking, flexible dashboard for ACE's personal training course. But our value runs a little deeper than good-looking assets and mobile optimization. The amount of information a student encounters in an in-depth training course like this one can be overwhelming, and the experience must be crafted to keep students engaged and informed, but not inundated with material. ACE wanted JLOOP to turn a course's worth of information into an intuitive, fun user experience that would leave students feeling empowered and in tune with the course content. At JLOOP, we take intentional design seriously- our team members aren't siloed into isolated teams, hammering away at a development checklist. They collaborate with project leads and each other, always with an understanding of what they are building, and who will be using it.
Study Smarter
The new personal training certification study dashboard is a streamlined experience, a study journey that breaks down tasks and information into understandable calls to action and easy-to-read messages and notifications. Instead of being buried in a mountain of study materials, students see a clear path through their course and toward a personal trainer certification that can change their lives and the lives of others. With engagement data to inform future iterations of the dashboard, our team is equipped to tailor this system to ACE students even more closely in the future and ACE has been so pleased with the results that they've asked us to design another study dashboard for their advanced health coach certification program. With state-of-the-art tools at their disposal, the future trainers and coaches of the world will fulfill the ACE mission of getting people moving with more confidence than ever before.