Ronald McDonald House Charities
of Southern California
Nonprofit Multi-Site
With over 30 years of service to the community, Ronald McDonald House Charities of Southern California needed help unifying a variety of programs and fundraising efforts into one online presence.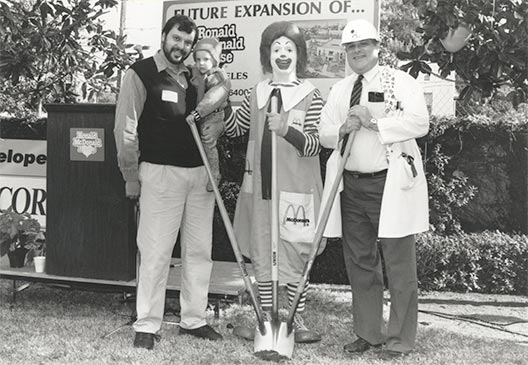 Background
Ronald McDonald House Charities of Southern California had a unique online challenge. They sought to bring together 8 formerly separate program websites into a single web presence that would unify their brand and mission. Their goal - provide the public with one online resource for information on the chapter as well as its 6 houses, 2 family rooms, camp, scholarships and grants. While maintaining a consistent visual presentation across all programs, the chapter also sought to respect the leadership, unique message and specific needs of each program. Ultimately, they want to leverage their new website to better inspire and engage with donors, volunteers, medical staff and the families they serve.
How JLOOP Got Involved
JLOOP rose to the challenge by developing a unique navigation solution resulting in a unified multi-site user experience. This "eyebrow" style navigation enables site visitors to easily jump between any of the programs of RMHCSC while remaining focused on what interests them most. Through this solution, each program is able to maintain its own landing page and specific content within the visual context established for the website as a whole. As a result, RMHCSC is now able to advocate more consistently for all its programs as they avoid overwhelming their supporters with information from too many sources.
Additionally, JLOOP also helped RHMCSC take its online fundraising to the next level by researching, recommending and implementing the integration of a new donations platform for their website. And to fully engage with donors and volunteers online, RMHCSC is now able to share the personal stories of anyone whose lives have been impacted by their mission through an "Our Impact" component on virtually every page in the site.
Today, RMHCSC communicates online with one powerful voice. Challenge met, mission accomplished!